---
Finding love across time
In a small sun-drenched village in Francoist Spain. Leonardo and Celestina fight for love that isn't meant to be.
Coming in Fall 2024
Standalone short stories

Kaito picked Akemi, an oversize girl, in a goukon because no one else did. Now, Akemi is obsessed over chasing him and leaving him no space to find another.
Love, Die, Live Trilogy
Live for Me is short bittersweet young-adult romance.
Now available in Kindle Unlimited
He gave her his heart to extend her life. Now she's dying once more.
Order Now
The Flame Squad series
Short stories about the members a vigilante group called The Flame Squad.
Blaze's life had gone exactly according to plan. He got away from his miserable life on the streets of Manila. He won the heart of Luella, a wealthy heiress of the Mondragon family from Cebu City, and married her. There was just one thing left to do: kill Luella and get all that wealth for himself.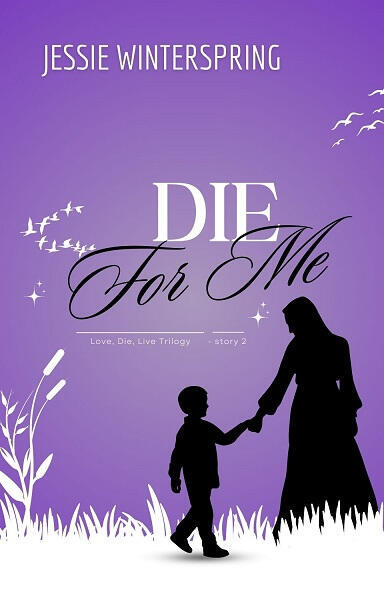 Falling in love is not a part of the plan, but the heart is the hardest thing to fight. On his quest for revenge, Efrain meets Kiyumi Takashi, a charming young Japanese woman and a daughter of a Japanese diplomat. He tried to push her away, because she belongs in the light, far from the dark world he lives in. Kiyumi, however, is persistent and soon breaks down his walls.
She lives in secrets and shadows. She needs to break free if she wants spread her wings, but an encounter with Efrain, a man whom her mother betrayed, made her decide to plunge into darkness once more, except this time as an active participant.
---
Online writing
About
Jessie Winterspring is a romance writer. She mostly writes with time-travel or paranormal tropes, but also writes contemporary. Sometimes.Jessie wants her first full-length novel under her name to be "In Another Time," the title of her time-travel story. The book was the first story idea she came up with back in 2006. No notes were written, but the story lived in her head rent free for 15 years before she wrote it for NaNoWriMo 2019. She self-edited it for two years and then making more changes after the editors teared it apart. The first time-travel she'd written was "Fumes Variola" during the National Novel Writing Month in 2013. She has been trying to find new ways to send her characters back in time ever since.Jessie loves nature and animals. She currently lives in a small village with her family, chasing her adorable son and walking her cat almost every day. She enjoys spending her free time reading and falling in love with fictional characters. Enjoy watching old TV series, anime and Asian dramas while eating noodles with chopsticks, or drool at the 80s and 90s music videos.Jessie is active on Instagram and Clapper as @jessiewinterspring, and occasionally, she shares her story drafts on her blog and other free writing websites.
Contact
I love talking about books and other common favorites. Or even if you want to contact me for another reason, please write ahead! 😀
I might be late at times, but expect me to reply unless it's a spam message.